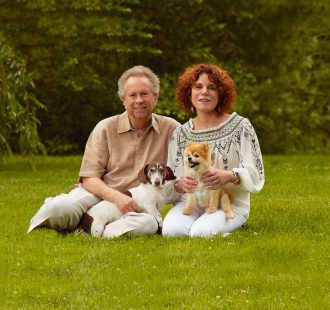 Everything has a beginning. For Nateeva, it started with a crystal-clear revelation we had after returning from vacation.
We were still basking in the golden warmth of stress-free, idle days away from our desks and the pressures of real life, where time didn't seem to matter and no clock sternly beckoned us to obey. With colorful panoramas of lush scenery remaining boldly vibrant in our minds, we began to visualize a different future.
Like most people, we love to travel—and the places we enjoy most are exotic island destinations. Surrounded by turquoise waters and sweet balmy breezes, our senses are seduced by intoxicating smells, tantalizing flavors and fiery sunsets. If only we could recreate the feelings of these adventures and conjure them up whenever we wanted to be magically transported to those calming, beautiful places in our memory…
We'd both spent our careers in creative professions — with Hope working as a fragrance evaluator for a large international fragrance house, developing many recognizable perfumes for lots of major brands. Inspired and energized by our latest trip, we started brainstorming ideas to capture the mood and sensation of the exotic destinations we loved.
And from our joyful remembrances of these island paradises, Nateeva was born. Nateeva is a collection of fragrance products designed to let your senses take you on an exotic journey to places you've visited—or have wished to travel to. When you dream of these destinations, euphoric and fragrant, the feeling of contentment that envelops you can be enthralling.
Each Nateeva fragrance is inspired by the native flowers of exotic locations, starting with three of our favorites: Nateeva St. Martin is reminiscent of the beauty of the Hibiscus flower, tinged with vanilla, mimosa and sheer musk. The Yellow Elder flower, blended with linden blossom, ginger and sandalwood, inspires our Nateeva Bahamas fragrance. And Nateeva Jamaica is an ode to the Lignum Vitae flower, laced with mandarin, frangipani and coconut water.
Before the end of 2017, we will add Nateeva St. Thomas, Nateeva Dominican Republic, and Nateeva Aruba to our family of fragrances – and we plan line extensions that include body lotions, body washes, candles and diffusers, among other products.
One of our passions is a deep affection and caring for animals, so we'll be donating a portion of our proceeds to the Nateeva Fund, established to assist the diligent efforts of hardworking animal shelters, humane societies and private citizens throughout the regions we serve. To find out more and how you can help, click here.
We hope that as you explore the different Nateeva fragrances, you will begin your own unique experiential journey — transported to each exotic location in your mind…
Jay McSherry & Hope Freeman
Co-founders